9 reasons to collaborate on a styled shoot for your event business
9 reasons to collaborate on a styled shoot for your event business
It's a contentious issue across the social media and marketing world. Collaborating on styled shoots has exploded as the number one way to help boost your burgeoning brand, but it's become a dirty word as of late. Accusations of people using styled shoots for freebies or not tagging vendors properly are rife.
But does it deserve its battered reputation?
Here at Confetti Fair, we definitely believe that is a resounding 'No'.
Firstly though, I'm going to present a controversial option. Participating in one styled shoot in itself is not going to bring you a flood of customers (well, it could, but it depends on many factors). What it will do, however, is help you build social proof and a portfolio of assets to help you start attracting customers. It also offers an opportunity to present you as a trendsetter and authority, and practise your craft. From this perspective, collaborating on a styled shoot for your event business is a sound investment.
Not convinced? I'm here to give you 9 reasons why styles shoots are the greatest, as well as a few tips on how to run a styled shoot.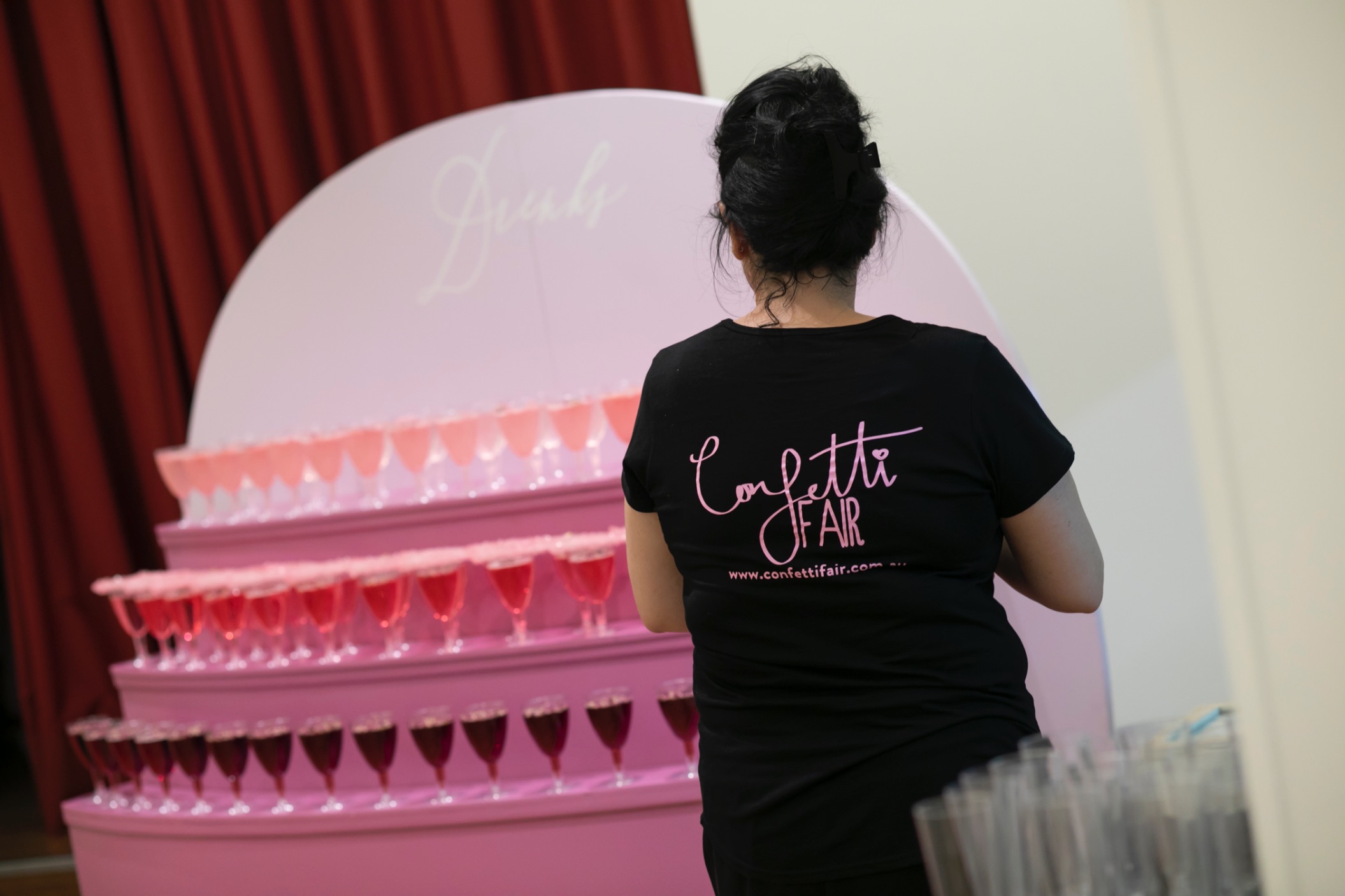 9 reasons to collaborate on styled shoots for your event business
1. Provide human connection
We're told that the key to success on social is to 'build a community or 'build a tribe'. Every day as a result of this we're making connections with industry peers, influencers, suppliers and potential customers on social. What better way to strengthen the bonds of these online friendships than meeting up IRL to make magic together?
2. It's potentially a business expense
Yep, you heard me. We hear a lot of feedback that styled shoots are expensive and take a lot of time. And that's valid. But in 2021, there is no reason why content creation should not be considered a legitimate business marketing expense and therefore deductible. Talk to your accountant to see what works best for your situation.
3. An opportunity to submit content to big media
With the right mix, you should have a highly professional-looking result. Use this content to the maximum by researching relevant publications to submit to. Take note of each publications criteria – some prefer only previously unreleased content.
4. Showcase your talent when starting out
What comes first, the chicken or the egg? Typically, when first starting out most event businesses don't have a lot of content to share. It's a double-edged sword because these days social drives a lot of customer sales, and images are key here. Without images, you'll find it somewhat harder to showcase your work to generate clients as a new business.
Parties and events are highly visual (with an element of FOMO). You'll also notice many businesses that have had quick growth started out with a lot of content.
5. Build a portfolio of marketing assets
The general consensus is that images acquired via a collaboration are for the benefit of all. To that effect, many photographers (who generally hold the copyright) will allow you to use the images for your own website, marketing or advertising. A photographer and vendors will generally understand that credits are not used in this context. Of course, it is best to always credit everyone when sharing on social.
6. Career Progression
Just like constant learning and evolution is a must in a corporate career, participating in styled shoot collaborations presents us with an opportunity to learn from others, and push ourselves to new limits.
It's also an opportunity to stand out as an authority whilst giving us a chance to push new trends and ideas.
7. Practise and Creativity
Is there a new technique you'd like to try and refine? A styled shoot is a perfect opportunity to do just that. Further to that, a shoot also offers a chance to flex our creative muscles, by creating something that is not quite popular with clients yet (see above about establishing yourself as an authority).
8. Gain business opportunities from other vendors
Much is said about networking gained from working in styled shoots but it's true – your fellow vendors are in the best position to recommend your services and are more likely to recommend those whose work they are familiar with.
9. Get published online
A styled shoot is not only for getting published in high-end magazines. A wedding, party or event blog will offer social promotion and valuable backlinks, things that look good for algorithms in general. You could even consider many lifestyle blogs too. 
How to ensure there are no fallouts on a styled shoot 
There are a few items to mark off when participating in a styled shoot collaboration. Paramount to this is transparency and communication. In short;
Does everyone agree on how images are used?
Have goals been set and is everyone aligned?
Is there a minimum expectation for posting on social?
Does anyone feel like they are offering more value than others?
Will everyone agree to do their very best to tag everyone involved and keep it fair?
Can value be extended in any other way (for example offering each other backlinks)?
Try to keep the above guidelines in mind, and it should be a positive experience for all.
A final word of advice – don't do too many – and don't let it interfere with customer work.  You'll be burnt out. And, because it's harder to derive an immediate financial benefit from all the work, you'll be more likely to write the whole thing off.
Styled shoots aren't for everyone. Some are too busy and many have been burnt. But to deny its benefits as a long term strategy for progression, customer acquisition and building your brand is naive.
Do you like this content? Download an infographic here. 
——————
We know you love styled shoots, but do you know what's the cherry on top? 🍒 Getting it published! Did you know, if you sign up to one of our Confetti Fair subscriptions, all of your submitted content will be prioritised in the queue?
Soon you'll also have the option of selecting a publish date. In addition, you will also be first to hear about openings for magazine submissions.
Want to find out more? Get in touch via advertiting@confettifair.com.au Don't forget, everyone is welcome to submit a party to our party platform!